Support of Patient Empowerment by an intelligent self-management pathway for patients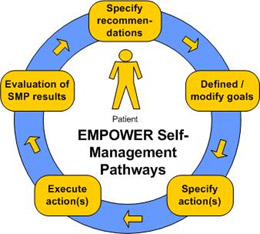 EMPOWER supports the self-management of diabetes patients through a modular and standards-based Patient Empowerment Framework. It helps sufferers of diabetes with observing daily patterns of living and with managing personalised action plans.
Patient Empowerment involves patients to a greater extent in their own healthcare process and disease management becomes an integrated part of their daily life. The capability of self-management opens the possibility for patients not only to contribute to their own healthcare but also to be more in control of their disease. EMPOWER develops a modular and standard-based Patient Empowerment Framework which facilitates the self-management of diabetes patients based on PHRs and on context-aware, personalised services. EMPOWER focuses the research and development efforts on a patient-centric perspective that also involves healthcare professionals. EMPOWER provides knowledge-based Self-Management Pathways for diabetes patients and this includes
services for the specification and execution of actions to change behaviour according to diabetes-specific health care needs and
services for monitoring of vital, physical, mental parameters as well as physical and lifestyle activities based on health standards.
EMPOWER addresses long-term goals and short-term activities in order to facilitate the self-management of patients with diabetes and thus the treatment of chronic diseases. The pilot applications in Germany and Turkey demonstrate that the holistic and patient-centric approach of EMPOWER can improve disease management by personalised self-management services helping diabetes patients to cope better with their condition.